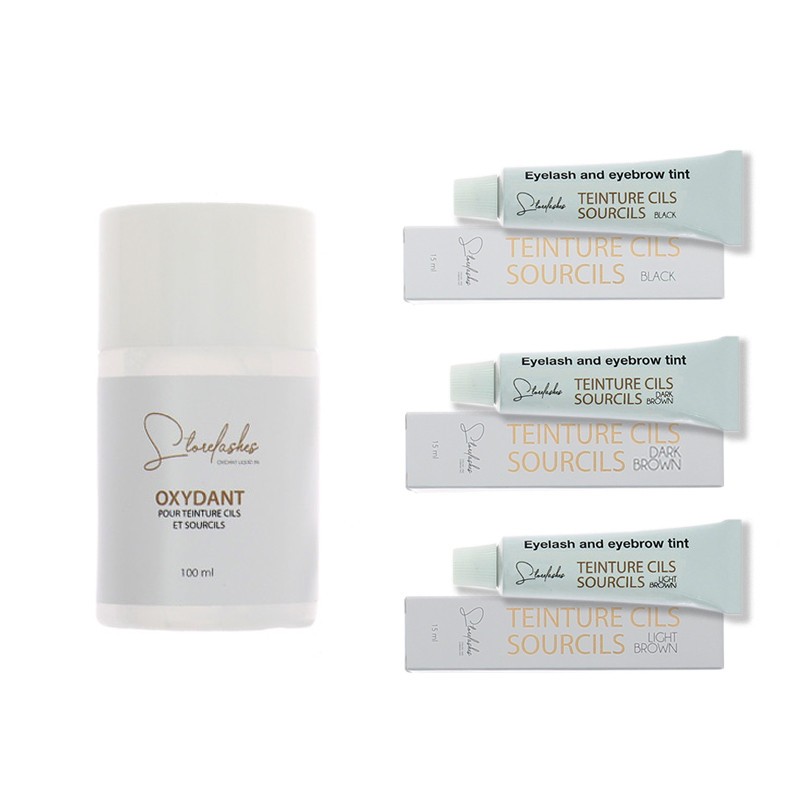  
Eyebrow and Eyelash Tint Collection Pack
Pack de 3 teintures avec 1 oxydant
Uniquement à usage professionnel.
Nouvelle formule !
Secure
Payment
Free delivery
From 150€ of purchase
Click and collect
At Bordeaux (France)
Le pack teintures de cils Store Lashes vous permet de répondre à toutes les demandes de vos clientes.
Adaptez et proposez la teinte parfaite !
Pack teintures de cils avec 1 Oxydant
Dynamisez et structurez le regard de vos clientes en comblant les zones clairsemées !
La teinture de cils et sourcils peut se pratiquer au cours un rehaussement de cils et d'un Brow Lift.
L'effet de la teinture de cils et sourcils dure environ 6 semaines.
Caractéristiques :
Ce kit contient : 
Une teinture Black
Un Oxydant
Préparation :
Appliquez une crème de protection afin de limiter les débordements.
Mélangez 2 cm de teintures avec 10 gouttes de liquide Oxydant ou 15-20 gouttes de crème Oxydant afin d'obtenir une pâte homogène.
Appliquez sur les cils et sourcils
Laissez agir 5 à 10 minutes
Retirez à l'aide d'un coton imbibé d'eau
Nos conseils : 
Pratiquez un test d'allergie cutanée sur votre cliente au moins 48h avant la prestation (à l'intérieur de l'avant bras par exemple).
Produit à usage professionnel uniquement.
Ne pas ingérer.
Évitez tout contact avec les yeux. Rincez immédiatement les yeux si le produit entre en contact.
Contient du peroxyde d'hydrogène.
Ce produit peut provoquer des réactions allergiques graves.
Tenir hors de la portée des enfants.
Ne pas utiliser sur les enfants.
Lisez et suivez les instructions.
Ce produit n'est pas destiné aux personnes de moins de 16 ans.
Ce produit ne doit pas être appliqué si : éruption cutanée sur le visage, cuir chevelu sensible ou irrité, réaction après coloration des cheveux ou des cils.
Composition des produits disponible sur produit vendu à l'unité.
Découvrez nos protocoles.
You might also like
Customers who bought this product also bought: